Business Leaders
Gain exclusive access to American Hospital Association events and expanded access to AHA resources.
AHA's new Associate Program opens the door to new opportunities and connections with our most active and engaged executives. Only through this program can business leaders attend and take full advantage of AHA Events, briefings, and exclusive content that connect your team with industry leaders and our members who are seeking to exchange ideas and explore new solutions during this time of transformational change.
Interested in participating?
Program Features
Gain Insider Access and Insights
Strengthen relationships with your targets via this special program offered by the American Hospital Association.
Visibility
Be seen by AHA members. Increase your visibility with health care executives and leadership.
Credibility
Increase your market perception & stay up to speed. Content and education to learn about what AHA members are doing.
Access
Exclusive access to key health care leaders & thought leadership. Research, podcasts, calls & content.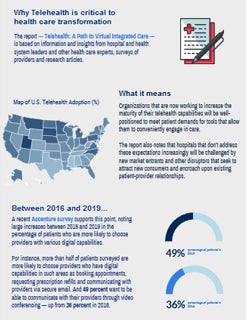 Featured Resource
Telehealth is changing care delivery in communities across America
From emergency department care to remote patient monitoring for chronic care management and access to care from specialists, telehealth is changing the way health care is provided — both expanding patient access to routine and specialty care while improving patient satisfaction and outcomes.
View
Become an Associate
Gain insider access and insights