American Hospital Association
Our Reach & Influence
The American Hospital Association is the national voice for the nation's hospitals and health systems.
Our membership includes more than 90 percent of the nation's hospitals, health systems and other health care organizations.
Our Audience Database includes more than 300,000 contacts from health care organizations, providers and other allied to the field. Hospital/Health System CEOs and C-suite leaders regularly engage with our content and attend our events.
At this time of tremendous upheaval for health care, the field looks to us for best practices, market insights and new ideas.
Download our guide to virtual events and digital promotions.
Big Challenges
What keeps hospital leaders up at night?
Clearly, COVID-19 has had a dramatic impact on care delivery and finances. But it is not the only issue that occupies the mind of a hospital leader. Others include:
Cyber threats
Workforce challenges
Ensuring access and affordability
Meeting a growing need for behavioral health care
Adapting to new payment models
Addressing the social determinants that impact health
Protecting health care access and resources in rural areas
Our Services
Connect with AHA Members
Reaching health care leaders has never been more challenging. In these turbulent times, hospitals, health systems and health care professionals look to us for education, tools and support to help them better serve patients in their communities.
National Conferences
AHA Rural Health Care Leadership Virtual Conference
February 17-18, 2021
The event of choice for rural leaders who want to exchange ideas and learn best practices to ensure a more sustainable future. Attendees include rural hospital and health system administorators, trustees, physician executives, nurse leaders and more.
Learn More

Cancelled
In light of the latest COVID-19 developments and CDC recommendations, the AHA has cancelled its Annual Membership Meeting, scheduled for April 19-21 in Washington, D.C., and all affiliated events. During this unprecedented time, we recognize that hospital and health system leaders must remain on site caring for patients and communities while also supporting employees and staff, including frontline caregivers.
We value our relationship with our sponsors and regret any inconvenience this presents. Due to the complexity of the circumstances, we ask for your patience as we determine next steps.
If you have immediate questions, please contact Carl Aiello at caiello@aha.org or 312-893-6894.
A Virtual Conference on COVID-19 from Recovery to Rebuilding
September 14-16, 2020
Join the American Hospital Association September 14-16 for a virtual conference brought to you by the AHA Center for Health Innovation and the Society for Health Care Strategy and Market Development that convenes the field's leading thinkers, strategists and doers – including innovators who are shifting traditional business models in this dramatically different environment.
Our virtual conference offers premium, supporting and exhibit opportunities providing broad branding exposure and targeted interaction with senior hospital executives.
Learn More
Signup for the AHA Business Partner Newsletter
You'll get quality insights on ways to connect to hospitals.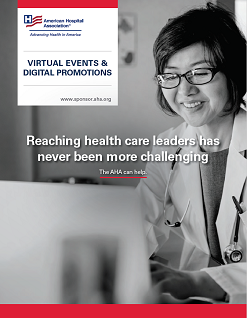 Virtual Events & Digital Promotions Guide
Promote Your Brand & Make New Connections
When you tap into the power of the AHA, you are connecting with the single best source of access and insights in health care. Learn how we use the power of virtual events and digital promotions to empower businesses to share their solutions with our members at this pivotal time.
Download
Connect with us
Want to partner? Let's talk.
Whether you're looking for business partner opportunities, hospital solutions, or just want to let us know how we did, you can contact us. Please provide the following information: